A sub-group under the governance of the Stow Community Trust has been taking forward a proposal to have a pump track in Stow after a community survey in September 2019 showed there was strong support for one in the village.
What is a pump track?
A pump track is typically a circuit of rollers and banked turns (berms) designed to be ridden by 'pumping' (weighting and unweighting the bike) to generate momentum without pedalling. They are suitable for small wheeled children's bikes, BMX and mountain bikes and can be enjoyed by children and adults alike.
Pump tracks develop bike skills and confidence but ultimately provide a fun activity for all in a safe off-road space. A professionally designed and built pump track is suitable for all ages and abilities.
They are considered to be low risk as all features are roll-able. Considerable skill is required to develop the speed required to 'jump' features.
Progress to date
A community consultation event took place in December 2019 to identify the preferred site for a pump track. The results of this showed site 1 (between the Bowling Club and Mill Lade) to be the preferred location for a Pump Track in Stow. The headteacher at Stow Primary School communicated with us in January 2020 that the school no longer wished to develop this area for an outdoor learning space/garden. The group met with representatives from SBC in early February and received permission to proceed with the surveys and investigations required for submission of a planning application for a pump track on this site.
The Community Council funded an application for pre-planning advice from SBC for development of the pump track on this site. The advice has now been received and will be very helpful for the planning stages.
September 2020: Good News!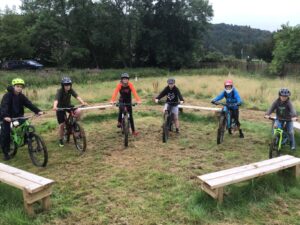 We are delighted to announce that our grant applications to the Foundation Scotland EDF Longpark Community Fund and the SSE Toddleburn Community Fund have been successful. These grants will allow us to undertake Phase 1 of this exciting project by funding the design, surveys and site investigations required for a planning application for a pump track in Stow.
Further information
Updates written for the Community Newsletter can be viewed here:
Like our Facebook page at https://www.facebook.com/stowpumptrack